#15 letters from Hiroshima
October 2019. On visiting the Peace Memorial Museum, tour guiding, growing older, the magic of perception.
Warning: this newsletter contains some moderately graphic photographs of artwork displayed at the Hiroshima Peace Memorial Museum.
"Tommy thought it possible the guardians had, throughout all our years at Hailsham, timed very carefully and deliberately everything they told us, so that we were always just too young to understand properly the latest piece of information. But of course we'd take it in at some level, so that before long all this stuff was there in our heads without us ever having examined it properly." — Kazuo Ishiguro, Never Let Me Go
Three years ago I began taking customers to the Hiroshima Peace Memorial Museum on a particular walking tour that shows them the highlights of Japan. (The contentious notion of 'highlights' of a particular country is a subject for another day…) This happens twice or thrice a year. You'd think that the first visit would be the most harrowing, and that one would be increasingly numbed on subsequent visits, but I have found the opposite to be true. I had seen everything before but I saw it differently now. Captions detailing the post-bomb aftermath now made my throat catch just that bit more. I found it more difficult to watch the interviews with survivors. The contents of a letter or a half-melted pair of spectacles twisted my heart into shreds.
Why should this particular visit have weighed so heavily? Maybe it was the artwork. These were drawings and paintings by A-bomb survivors, many more than there used to be, and they were by far the worst part of the museum. Nothing was high art but that is not the point. There's a truth about them that is somehow heightened by their lack of artistic ability. You can feel the scorching earth, the burning bodies, the swollen faces, you can almost hear the crackle of flames and the screams in the fire. They are the kind of pictures that can only be drawn by those who have borne witness.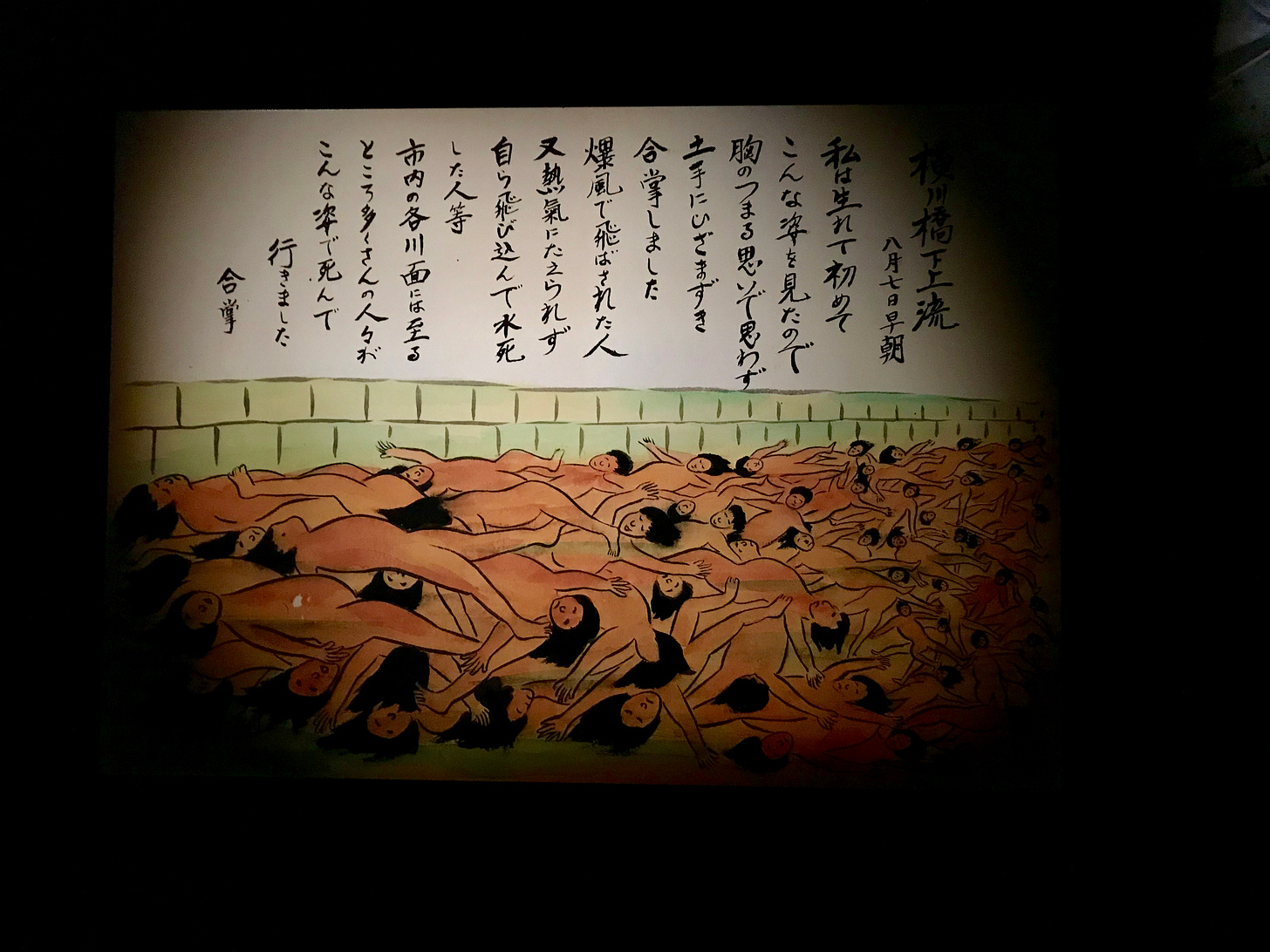 Perhaps it's that I did not wish to look very hard at the exhibits before. If you're a tour guide with up to 14 guests to take care of, you have to maintain your composure. You can't afford to be too affected by the exhibits to do your job. It's a sentiment shared by some of my colleagues – it would be unseemly to betray too much adverse emotion on someone else's holiday, and after a visit to a museum like that, most guests just want a little levity and sunshine afterwards. That's where you come in. It's part of a service-oriented job like guiding: it's a performance people have paid for.
(In the same way, when a guest walks over to you at breakfast and snarls at you about how terrible dinner was the night prior and how it is all your fault, you keep performing. You swallow any reaction and buy the guests lunch afterwards. It is funny how this now-old memory still has the power to sting, though it's clear he was simply lashing out at the closest individual he could hold responsible for his moment of dissatisfaction.)
Then again, I am also a little older than when I began this job. Sometimes I don't think I've changed all that much over the years, that I am still quite sunny and trusting, but if I look back it's apparent that the baselines have shifted a little. Some relationships have crumbled, people have come and gone, my heart has been broken many times over. I still talk to strangers, just not as much as I used to. But the loss of innocence is a small price to pay for the ability to feel grief and compassion. If these years have allowed me to finally begin to understand what I am looking at in the museum, then maybe I'm doing something right, even when I don't know where it'll go in the end.
I've also been reading my way through some of Kazuo Ishiguro's oeuvre this month. None of the books I read as a teenager by him stayed with me. The stories, lives, characters – nothing registered. But now in my late twenties, they felt far more relevant and tragic and devastating. What I thought was Stevens' dull rambling about his duties now registers as someone trying to convince himself that his life's work was worth something; so much elliptical talking between teenagers now feels poignant rather than long-winded in the build-up to the book's inevitable finish.
I think his books are the kind of books you need a certain amount of life experience to fully get, I said to a friend.
I know, she replied. I didn't remember anything when I first read them. Now they just kill me.
When I'm at the Peace Memorial Museum there are usually school groups visiting. They range from tiny schoolchildren to laughing teenagers, and they usually run through the whole museum in about half an hour. Their chatter dies down when they first enter, as they become conscious of the hushed silence around them. One, two, three, they stride past, gazes flickering across the exhibits. Their teachers or guides point out highlights in an incongruously cheery tone of voice. When I look at them I wonder how much of this they will remember when they are older – if they will ever look back to examine everything that they have been told, or return in their later years to feel the shape and weight of a life lived.
---
If you've forgotten how you ended up here: in theory, you signed up here for a monthly missive of introspective writing by Flory Leow – immersive stories asking questions big and small, celebrating the small and large joys of life. Every dispatch includes a selection of reading recommendations, too.
---
SUPPORT THIS NEWSLETTER: I began this with the intention of writing to friends in far-flung places, as a way of finding readers while ensconced in Japan. A year on, it continues to be one of the most rewarding things I do every month.
These dispatches are a labour of love – once-a-month missives will always remain free, and you are welcome to remain on the free list. But these newsletters do take considerable resources to produce every month!
If you do choose to make a paid subscription, you'll be helping this newsletter remain sustainable, and also play a direct part in helping me and my writing grow. The aim has always been to find readers to connect with, a personal, intimate readership like friends in a living room, without having to rely on large media publications. I'd love to skip the middleman and find readers like you instead.
If you've been reading for a while and you like what I do every month, I would love it if you considered contributing USD$5 a month (the minimum Substack allows) or a discounted USD$50 annually.
Whether or not you choose to do this, though, please know that I'm glad and grateful that you've chosen to read my newsletters.
---
Fragments on Seeing
"The four obstacles to seeing are speed, impulse, distraction, and ambition." – from a conversation with John Einarsen.
I used to take photographs much more than I have done this year. Not casual snapshots of a landscape or of an object, but the act of taking photos as a way of perceiving the world around me. I loved wandering the streets, letting my eyes drift over textures and surfaces. As in art, sometimes there is no deeper meaning to seeing other than the sheer enjoyment of form, and often I find this is enough. The stark shadows of telephone lines drawn on a plaster wall at midday, sunlight pouring through the fine veins in a leaf, wisps of steam rising from a kettle's spout on a cold February morning.
I once thought I would never lose the pure pleasure of seeing things. But it turns out that one can forget the joys of perception, which happens when the mind is clouded with worry and doubt and fear. Do you know what I mean? You look for things that aren't there, don't see the things that are. You seek meaning and find none and it puzzles you. The tension can last for months. You hold on to past fragments of yourself without understanding why. Everything in front of you is drained of colour, the delight you once took in the shape of a crate seems trite.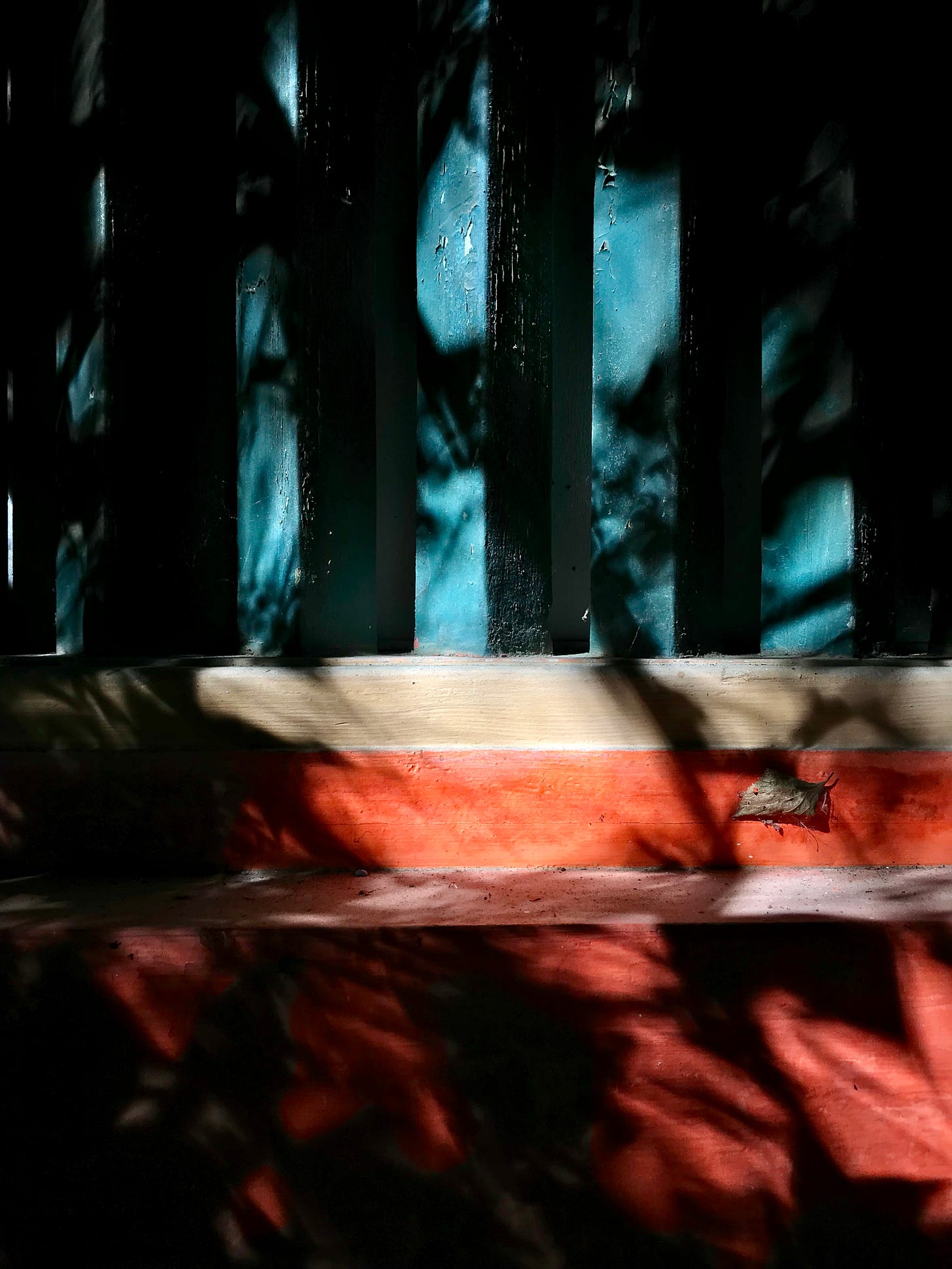 A dear friend told me a month ago that she was seeking emptiness, which I understood to be important but couldn't feel – and then I found it a few weeks ago. I had decided to let go of something that had defined me for years. And that decision gave me one glorious day of clarity, and there was suddenly space to let the world simply come into my vision.
That day, I walked. Around the foothills of northeast Kyoto, the house I once lived in, the forest surrounding Shimogamo Shrine. Exiting the main shrine building, I turned the corner into a shaded pathway just outside, and out of the corner of my eye I saw an inferno of light and shadow. Vermilion borders, white walls, glossy green slats. I could not look away, and did not for the better part of half an hour.
---
FLORY'S VENTURES (STUFF I'VE BEEN UP TO)
READING I've been on the road for about two weeks, and train rides give you plenty of time to immerse yourself in books. I will always prefer a physical book but the Kindle is a game-changer for traveling.
JAPAN TRAVEL CONSULTING This is exactly like it sounds. Need to ask me burning questions about interesting places, rail travel, or what to include in your holiday? Ask for me (or one of the other excellent folks) at Japan Travel Consulting.
FREE SPACE: WORK QUERIES If you have articles, essays, brand or profile descriptions, website copy, travelogues, or even – gasp – a book you want written, please do reach out. On a bio: it turns out I'm pretty good at weaving seemingly-disparate achievements and things you've done into a coherent narrative. Respond to a newsletter to let me know.
---
Who is moving
This hand of mine?

What is beauty,
But joy found
In all of life.

— Kawai Kanjiro
A few weeks ago I visited the Kawai Kanjiro Memorial Museum in Kyoto. I lived in Kyoto for several years and never made it down there, but glad I did this time. What a place it is: the light filtering through the paper screens, the wooden carvings, the warmth of a life lived fully. If you visit, worth picking up is a slim volume on sale at the counter by Yoshiko Uchida called We Do Not Work Alone: The Thoughts of Kanjiro Kawai consisting of poems by him and an essay by her.
---
WHAT I'VE BEEN READING
・Who Would I Be Without Instagram? (The Cut)
・Please Fire Jia Tolentino (Paris Review)
・Strike with the Band (The Baffler)
・Philip Pullman on Children's Literature and the Critics Who Disdain It (Literary Hub)
・Consider the Swift (London Review of Books)
・"Let's talk about genre": Neil Gaiman and Kazuo Ishiguro in conversation (New Statesman)
・A magical vision is hidden in the Irish language – we need to rediscover it (The Irish Times)
・Dina Nayeri – The Ungrateful Refugee
・Esther Perel – Mating in Captivity: Unlocking Erotic Intelligence
・Mary H.K. Choi – Emergency Contact (I loved this SO MUCH)
---
You can support the newsletter in other ways:
・Send emails and issues you liked to friends and family, and ask them to sign up at furochan.substack.com. I love new readers and subscribers! It's kind of like meeting kindred spirits, which is a very Anne-of-Green-Gables sort of thing to say, but it's true.
・If you love what you read but can't subscribe at this time, you can always buy me a cup of digital coffee here, in any currency you like. Coffee keeps the writing juices flowing: paypal.me/floryleow
・Write a recommendation for this newsletter, and I'll add them to this page. Kind of like testimonials for Friendster but way better. (Who remembers that, anyway?)