Discover more from the adventures of furochan
Immersive stories exploring questions big and small. It's monthly newsletter about life, travel, books, food, and good reads. You'll receive a free food guide to Japan, too!
#19 A Few Flowers I Loved This Spring (July Series #3) 
July 2020. Some spring flowers for the present moment.
Dear friends, welcome to part 3 of the July letters. If you're new here, this newsletter is usually sent on a monthly basis. This month, you'll receive them twice a week, on Wednesdays and Sundays. Read the archives here; if my writing brightens up your day or makes you think, you should share this indiscriminately with lots of people.

Also: thank you so very much to everyone who shared and/or subscribed this week!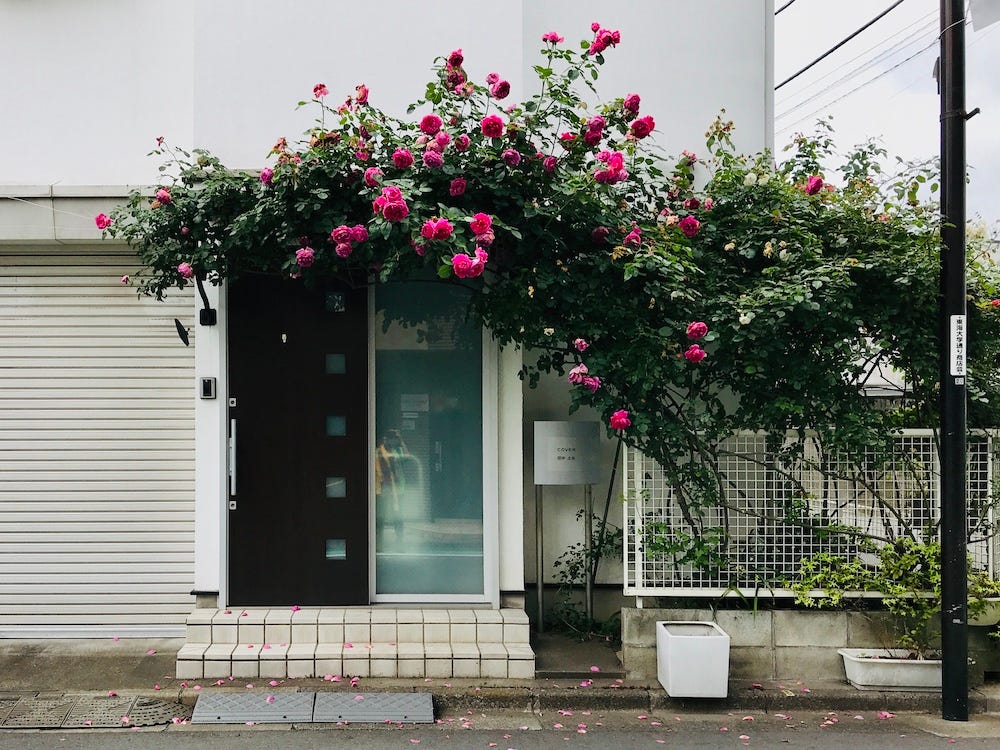 My last full-time job was as a tour planner. That job taught me that small mistakes early in wouldn't manifest until several months later, and they'd often result in close shaves. If you forgot to make a note in the system in June 2018 that said customer X required an extra night at this hotel in April 2019, and believe me, this is very easy to do, no one would notice until X showed up at the hotel desk 10 months later and discovered that they did not have a place to sleep. Only then would the present catch up with you in the most unpleasant way possible.
Most of the time, you could fix such problems. However, preventing them required you to think constantly of customers and their holidays, always planning a year ahead, your mental calendar stretching months into the future. Travel––especially customer-focused travel––may be the worst possible industry to work in if you want to be able to focus on the present.
But now, now is the opposite of looking ahead. Now is an unending present, today blurring into yesterday and tomorrow. So "now" looks backwards. Maybe you've felt this, the way it's taking longer to process this year. Now is nostalgia for yesteryear. Now is constantly looking to two weeks ago for case numbers today. Now is an inability to plan ahead. Now is an endless winter of discontent.
My heart and mind are still in spring even as we are barreling through July. I felt a strange sense of purpose earlier this year, in staying home and away from people, when the losses were only starting to make themselves felt. It feels more difficult not to succumb to despair these days; small moments of joy, a good joke, a sunny day––these are real, hard-won prizes in these times.
To that end, flowers. Whether I like them or not, they ground me in the everyday. Seasonal flowers in particular demand that you pay attention here and now before their time passes. They are one way I am trying to hold on to this spring gone by.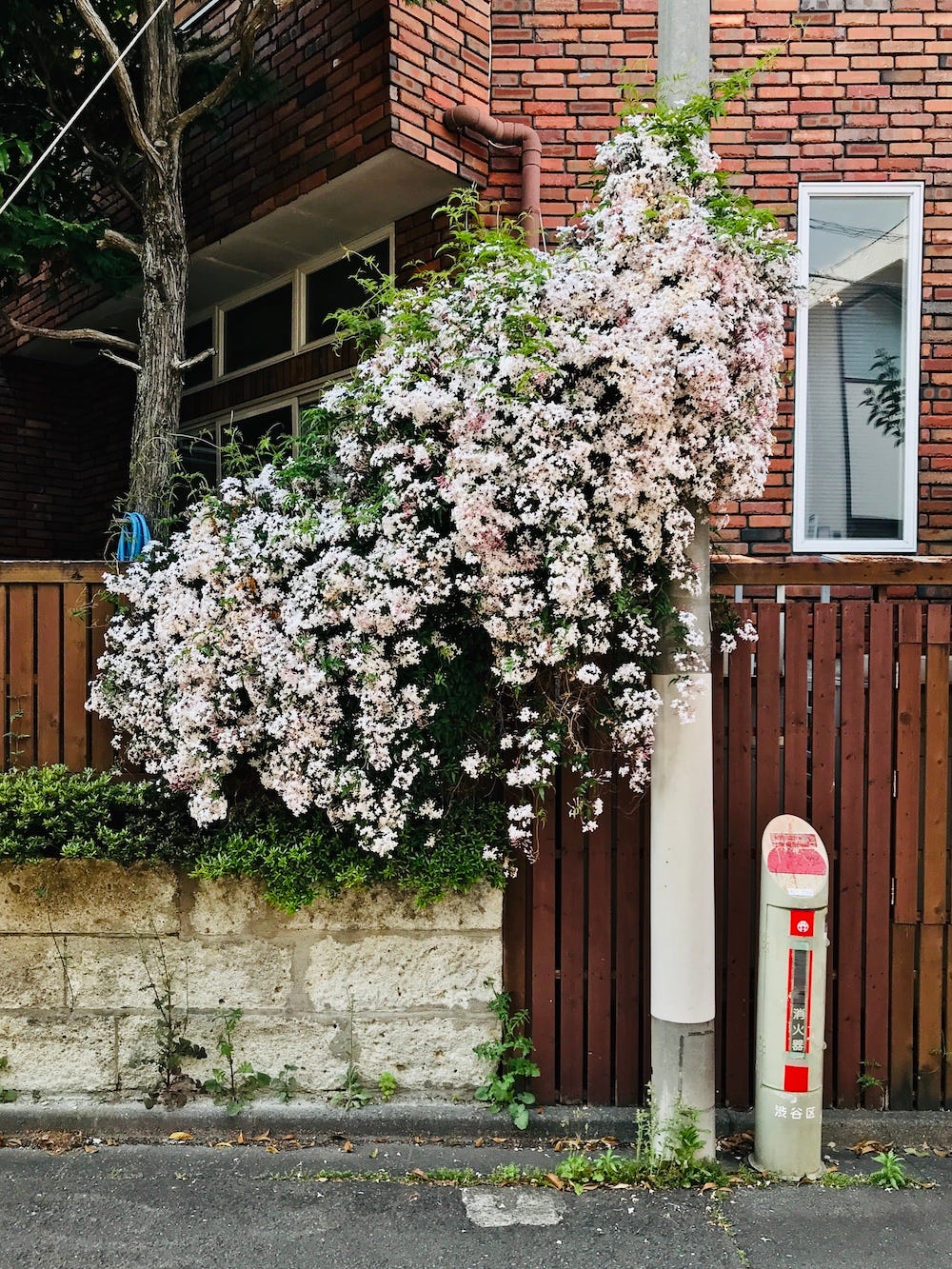 Around the corner from the street where I live is an old house with a staircase tacked on to its exterior. There is nothing to recommend this house save for the excellent cafe opposite. Until last year, though, there used to be a curtain of jasmine draping down from the top of the staircase. Green most of the year, it transformed into a beguiling cloud of starry white flowers every year around Golden Week. The 'common' jasmine is anything but; it announces its presence from afar. I loved coming home on spring evenings, especially on moonlit nights, the air thick with a heady, musky perfume as I approached.
Whoever lives in that house has hacked all the jasmine off now, and a clump of withered brown vines hangs in its place.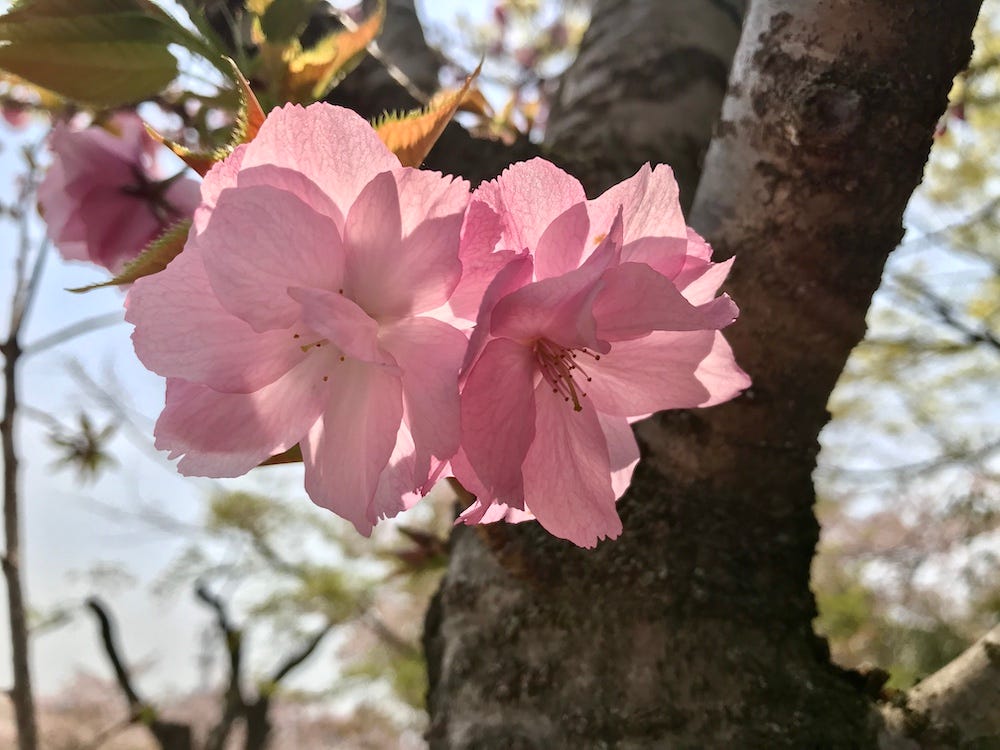 What can I say about cherry blossoms that hasn't already been said? Ephemerality, mortality, death. If you are in Japan at the right time, you experience a glut of sakura. I dismiss them most of the year in favour of other underrated flowers but grudgingly admit a small love for them when they are around. This year there were no crowds, and I realised I actually rather like them. I just resent the over-touristing they encourage. Such is the dilemma between one's livelihood (tour guiding) and enjoying the cherry blossoms in peace.
I do not much care for the most popular white Somei Yoshino variety. Give me mountain cherries, weeping cherries, late-blooming cherries. Contrary to popular belief, cherry blossom season in Japan lasts for a long time, especially if you venture to higher altitudes later in April. I love varieties like this––Matsumae-Benitoyo, a kind of mountain cherry––with layers of pink petals, best enjoyed backlit by sunshine.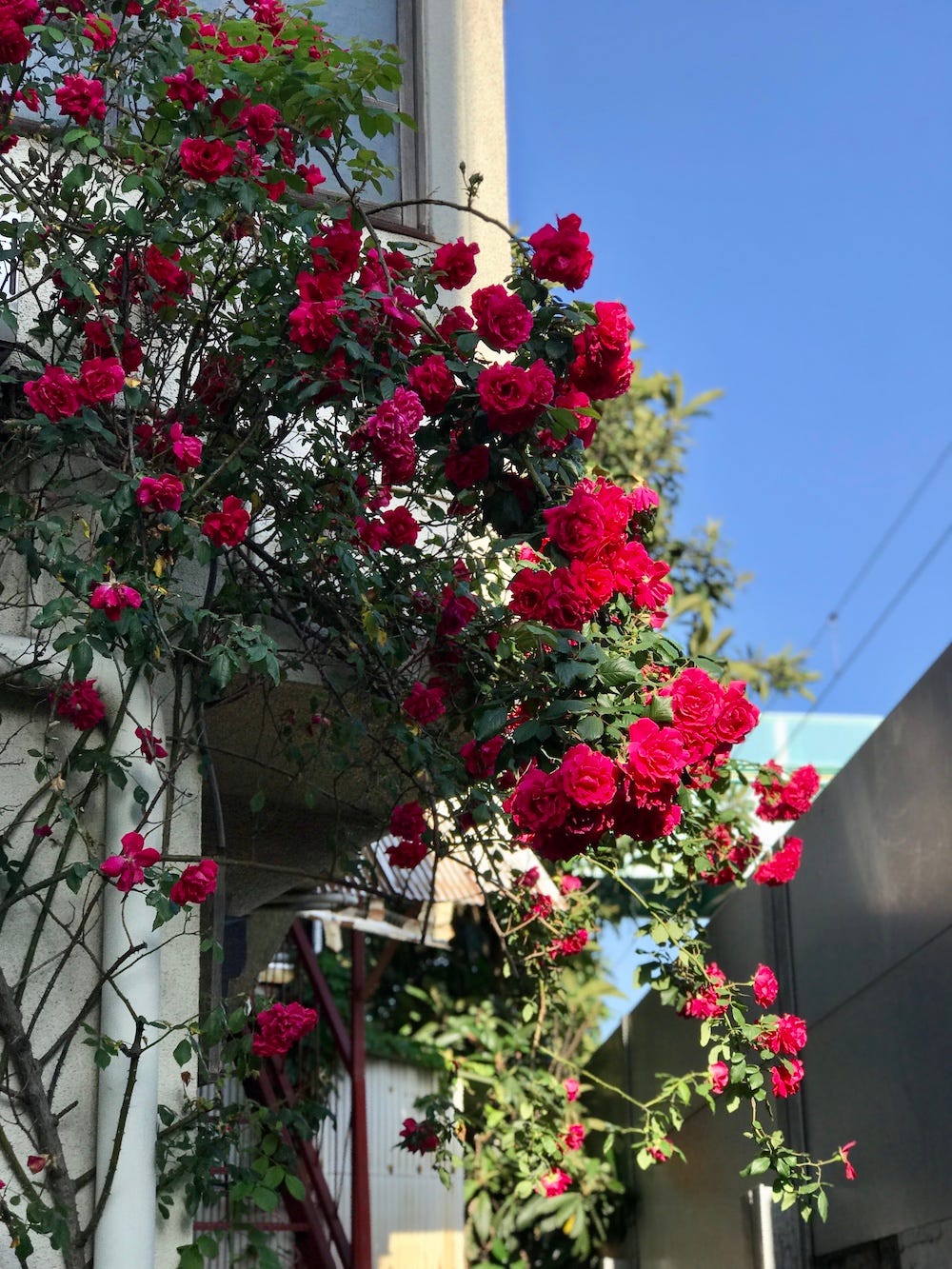 I do not like most rose gardens. Specifically, I dislike the formal rose gardens you find at some botanical gardens in Tokyo, with their fussy, manically organised rows of bushes. (Jindai and Shinjuku Gyoen, I'm looking at you.) Give me untrimmed hedges, canes snaking and twisting their way up a building, extravagant clouds of fist-sized blossoms and thorns to match. The only rose garden I have any desire to see probably doesn't exist anymore: Alexander Chee's rose garden in his sublime essay "The Rosary," which I imagine to be a little like an Azuma Makoto arrangement with a touch of Martin Johnson Heade's moody floral portraits.
Frankly, I do not get along with most roses––at least, those that are recognisably 'roses,' rather than, say, sea roses. I don't much care for roses as a symbol for romance. Other flowers are easier to love: hollyhocks, hydrangeas, hibiscus. I talk about this with my friend on occasion, how funny it is that neither of us like them much. I couldn't very well send you lilies, he said, of the dozen roses he'd sent shortly after we met. It was A Gesture, one that seems rare today. I think fondly of those early, giddy days. I miss them. Sometimes I wonder if anyone will ever do that for me again. 
But I like roses when someone gives their doorway over the flowers, the way the clusters of canes and leaves and blooms lend the house a fairy tale countenance. Let them do what they will with the walls; let them climb, let them sway, let them spark the beginnings of someone else's story.
---
LONG READS, GOOD THINGS
BOOKS + MUSIC
---
Ways to support this newsletter:
・Forward emails and issues you liked to friends and family, and ask them to sign up at 
furochan.substack.com
. I love new readers and subscribers! It's kind of like meeting kindred spirits, which is a very Anne-of-Green-Gables sort of thing to say, but it's true.
・If you love what you read but can't subscribe at this time, you can always buy me a cup of digital coffee here, in any currency you like. Coffee keeps the writing juices flowing: 
paypal.me/floryleow
・Write a recommendation for this newsletter, and I'll add them to 
this page
. Kind of like testimonials for Friendster but way better. (Who remembers that, anyway?)
・I'm always looking out for opportunities in writing, translation, content design, transcription, or interesting collaborations. If you think I might be a fit for something but it doesn't fall into any obvious categories, I'd love to hear from you regardless.