#24 a chicken katsu sandwich by any other name (July Series #8)
July 2020. On late-night sandwiches and integrating into places.
Dear friends, welcome to part 8 of the July letters. If you're new here, I'm Flory Leow, and this newsletter is usually sent on a monthly basis. This month, you'll receive them twice a week, on Wednesdays and Sundays. Today's is a day late, but I hope you'll think it worth the additional time spent writing. Read the archives here; if my writing brightens up your day or makes you think, you should share this indiscriminately with lots of people.

Also! It is my birthday tomorrow (hello, it's Leo season) and all I want is for you to go out and support your favourite people doing good work, whether that's art or anti-racism activism. It would also really make my day if you forwarded this newsletter to good people who might want to hire someone to write things!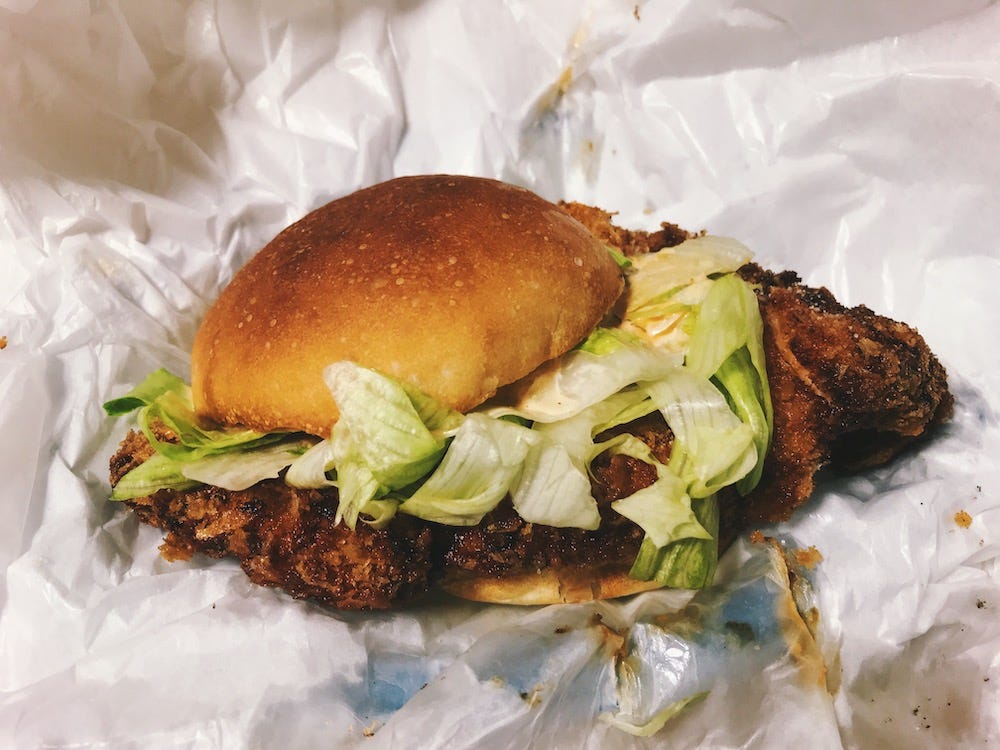 Our worlds have dwindled during this pandemic. Though hardly a real problem by any stretch of the imagination, the ennui and frustration of being in Tokyo gets to me at times: in normal months I would already have spent weeks on end in other parts of Japan for work, coming back to my apartment only for the administrative aspects of life before disappearing again. But I will also be the first to say that an itinerant life like this doesn't lend itself to building any sort of community at all.
I've lived in Tokyo for a cumulative four years or so now, but I don't really think of myself as a 'Tokyo person.' Certainly not in the same way some people adopt the city like it's their personality. Some of my friends have picked up on my ambivalence. It's true; I don't feel particularly starry-eyed thinking about Tokyo the way some people I've met seem to expect. I came here to work, and as time slipped by, the small details of the mundane stacked up into the days of my life.
I could point to the usual gripes that come with living in a big city: too many people and tall buildings, long commutes, it's expensive, isolating, it's hard to make friends who don't leave eventually. My view is also coloured by having spent enough time in other parts of Japan. I generally dislike the overwhelmingly Tokyo-centric view of Japan, both inside and outside its borders, as though everything of note must somehow revolve around the capital city. (See also sentiments re: Klang Valley, London, New York, etc.) I find regional Japan in general more interesting, and to this day I miss having a mountain ten minutes from my backyard.
But I do love pockets of Tokyo, in the way one comes to love familiar faces or recurring details. For instance, my neighbourhood: I like the little stationery shop with a coffee roaster at the back, the Saturday crows, the curry shop with a permanent queue outside, the dilapidated house down a snaking side street with a gorgeous summer-blooming Beauty-of-the-Night cactus out front––"I've had it for 10 years, it's kind of grotesque isn't it," said the elderly house owner to me once––the absurdly cute toy-like buses trundling down the main shopping street once or twice an hour. I think I would have learned to like any neighbourhood I moved to, but I happen to love this one because it's mine. I like seeing the same people around. I like seeing the old coffee man perched on the curb outside the stationery shop smoking and reading a newspaper, the preponderance of silly poodles in prams; I have enjoyed waving to the boys at the coffee shop over the years as I walk or cycle past, sometimes stopping for a quick chat, maybe running into them at the supermarket or as they cycle past with coffee beans and kitchen supplies. 
"Every now and then, … I spend a month, every single day, going to a place that I have not been before. You can do this while traveling, obviously. But it is much more effective if you do it very, very close to where you live; so, things that are within half an hour of where you live. In other words, you could always have gone there, but you just never bothered to get off your beaten track. You've never ever gone to have a look in that tiny little weird art gallery that you pass by every day on your walk to work. You've never gone to sit in that park. You've never gone to be in that church. You've never tried out the baguette from that café.

Sometimes I do this every day for a month. Literally, it can be five minutes, pop in. But suddenly, I have a sense of the incredible richness around me, of things that I have seen but not really noticed. … And when you look at the world that way, when you look at the world with Phil Connors's eyes, when you go right through the sense of ennui, through the despair, right through to the other side, and all you can see is how amazing it is to just be allowed to be alive right now …" ––Naomi Alderman, This Movie Changed Me
---
If you have any leeway to support this newsletter, I'd love it if you considered a paid subscription. I write to find readers to connect with, a personal, intimate readership like friends in a living room, without having to rely on large media publications.
---
On a cool, muggy night last week I wandered out in search of dinner. I was heading to 7-11 for plasticky microwaved food, which (honestly) hits the spot after a certain point of hunger and too much screen time. There's not much I like in the immediate vicinity when it comes to dinner, especially after 9pm, and the neighbourhood is quieter at night than it ever used to be pre-pandemic.
My favourite coffee shop usually winds down by about 5pm, but that night it was open, a few well-dressed people sipping bourbon highballs outside. One of the staff, Chan (who is not Chinese, but Japanese, to which his only explanation was「ん、ややこしっすね」), was doing a temporary sandwich pop-up while he searched for space to call his own. Well, not quite sandwiches––'sangas,' which is apparently what they call sarnies Down Under. (He'd spent some time in Melbourne.) A chicken schnitzel sanga to go, then, though I liked that they referred to it as a chicken katsu among themselves.
I do not wax lyrical about most sandwiches. Immediately after the first bite I texted a few friends: They do really freaking good chicken schnitzel sandwiches. Just took a bite and omg. Yum. Tastes like a super good McDonald's chicken burger. The next day I met a few friends for an early birthday celebration and raved about its perfectly crunchy exterior, the chopped gherkins, the absurd ratio of chicken to bread.
Your day must have been boring if the high point was a chicken sandwich, one said. So that night I dragged him to the shop and we ordered two chicken sangas to go.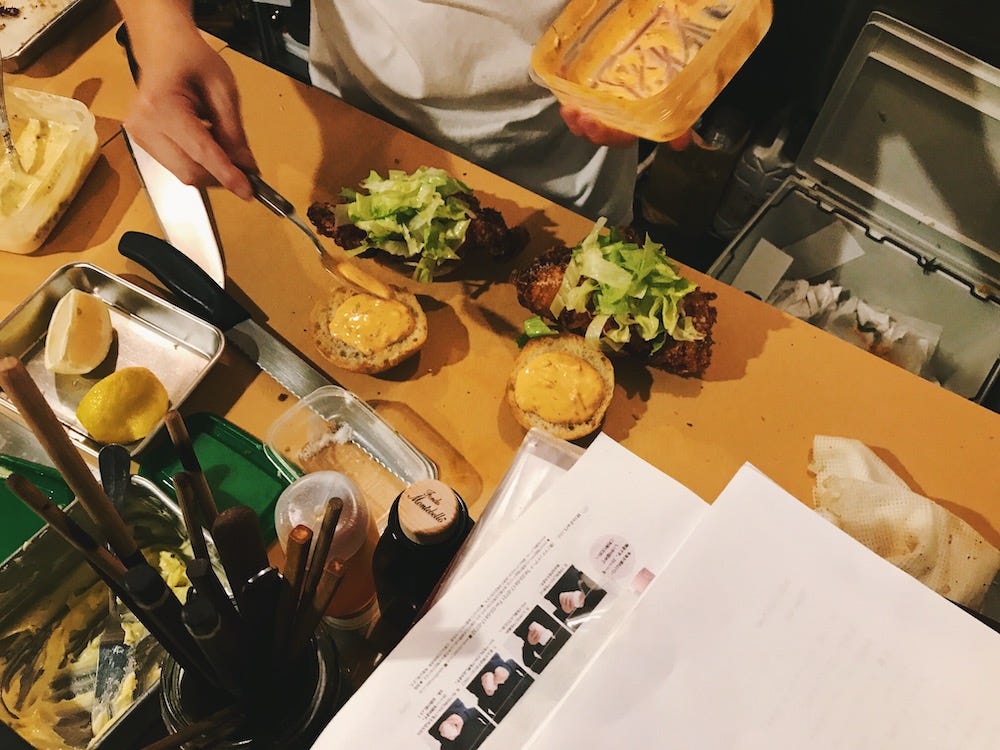 Like the experience of watching so many chefs in this country, watching Chan make sandwiches is to watch a craftsperson at work. As the cutlets sizzled in a pot of oil, we watched him assemble a salad, placing each tomato wedge and shred of Parma ham just so, a few drizzles of balsamic jus and olive oil to round it off. He crushed a few teaspoons of scallop dashi granules to a powder under a knife blade––"the grinder's broken unfortunately"––before sprinkling it on a freshly-fried chicken katsu––"to add depth"––and layering it with lettuce and a liberal slather of Sriracha-spiked 'hectic sauce.' 
Afterwards, my friend and I ran home in the warm summer rain, clutching our bounty. We waited at least 10 minutes for the sandwich but that's not only acceptable, it's exactly what you want; there's no point rushing something good. Once you have the sandwich though, you eat as soon as humanly possible. Hot sandwiches wait for no one, and we attacked them as soon as we were through the door.
There is literally nothing I dislike about this sandwich. The way the crunchy breaded exterior shatters when you bite down into the cutlet, the juicy interior, a hint of salty ocean umami in every mouthful, the sloppy mayonnaise. No busting boundaries or starting trends. It's simple, delicious, perfect late-night eating––everything you could ask for from a good sandwich.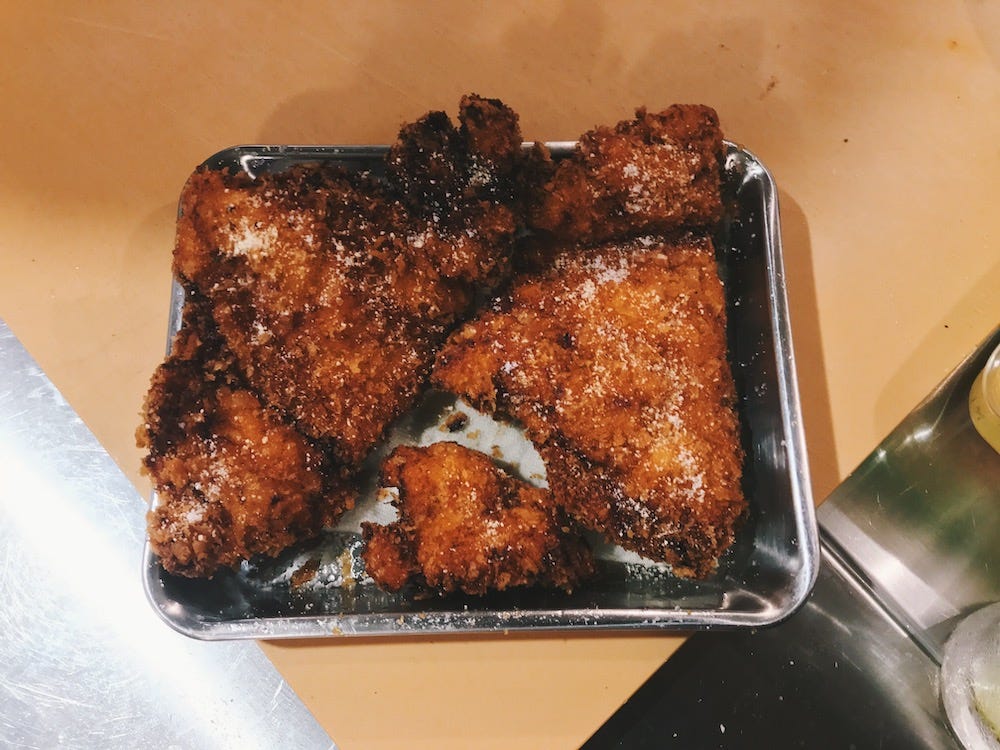 Last night a dear friend was talking to me about her understanding of integration. We were talking about this in the context of POC experiences in majority-white societies, but she texted me a few lines that felt extremely salient to anyone who's ever tried to build a life in a new place.
I feel integration is a feeling, she wrote. Language plays a factor, she said, but it's also about making an effort to see a place as multifaceted, to have a routine and things you love and appreciate as only possible in that place, to be connected to people who are at least semi-permanent to that place.
She articulated in a few lines the reason I still chat to shopkeepers and cafe owners, why I still walk around my area to look at the plants, why I have remained in this neighbourhood all these years, despite the rent. I have seen too many friends come and go from Tokyo (and it's only going to get worse), but if nothing else, I know the coffee shop and Chan's sandwiches are here to stay.
(Note: I didn't include specific locations for privacy reasons, but if you're in Japan and desperately want to know where it is and we know each other, you're welcome to drop me a line.)
---
LONG READS, GOOD THINGS
CURRENTLY PLAYING
Fiona Apple – Fetch the Bolt Cutters (full album): I lived inside this album for most of May and June, listened to it on repeat, returned to it again and again. It's not really something to absorb on a single listen––much of the magic comes with repeated listening, digesting, chewing on the impact of her lyrics, letting the whole thing get under your skin. 'Under the Table' is especially fun to sing along to: Kick me under the table all you want/I won't shut up/I won't shut up.

Britney Spears and Justin Timberlake – I'll Take You There: I've been a Britney fan since I was 9 (yes I grew up listening to her in the late 1990s) but to find out what her real voice was like as a kid, and then to discover what her music label did––tragic. #freebritney!
---
Ways to support this newsletter:
・Forward emails and issues you liked to friends and family, and ask them to sign up at 
furochan.substack.com
. I love new readers and subscribers! It's kind of like meeting kindred spirits, which is a very Anne-of-Green-Gables sort of thing to say, but it's true.
・If you love what you read but can't subscribe at this time, you can always buy me a cup of digital coffee here, in any currency you like. Coffee keeps the writing juices flowing: 
paypal.me/floryleow
・Write a recommendation for this newsletter, and I'll add them to 
this page
. Kind of like testimonials for Friendster but way better. (Who remembers that, anyway?)
・I'm always looking out for opportunities in writing, translation, content design, transcription, or interesting collaborations. If you think I might be a fit for something but it doesn't fall into any obvious categories, I'd love to hear from you regardless.